Doctor of Philosophy in Engineering and Computing Education
Overview
---
Engineering education research and computing education research primarily focuses on understanding how people learn engineering and computing respectively and how to improve instruction. Both are species of discipline-based education research (DBER), similar to chemistry education research and physics education research. There is also a significant research area that focuses on broadening participation in engineering and computing, fields that have long exhibited underrepresented of women and underserved minority populations. A Ph.D. in engineering and computing education will strengthen the quality and reputation of the teaching of graduate and undergraduate engineering and computer science.
This degree program merges two existing strengths: those of the
STEM Transformation Institute
, whose researchers conduct nationally impactful research in STEM Education primarily in physics, biology, and mathematics, and the strength of FIU's
College of Engineering and Computing
, which in 2017-18 produced $25M of externally funded research and hosts one of the largest undergraduate programs in the nation.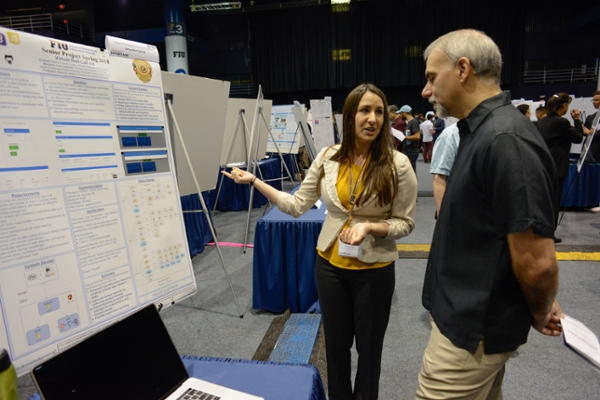 Admission Requirements 
The Application Requirements, as described below, are meant to provide information about an applicant's interests, goals, previous experiences, and strengths. Each requirement will be reviewed as part of the complete application package by SUCCEED faculty.
Deadlines: The priority application deadline is December 15th of the previous year for Fall semester admission for consideration of fellowships and assistantships. The Graduate Program Committee will continue to review and consider applications after this deadline.
Please note, for international students, additional time is required to process visa applications. Therefore, although the committee will review applications after January 15th, the committee cannot guarantee an international student, if admitted, will be able to enroll the following fall semester due to the necessary visa processing time.
Requirements:
A one to two-page, single-spaced Statement of Purpose that describes your professional goals, how the program would help you achieve those goals, and what experiences have prepared you to pursue a doctoral degree in Engineering and Computing Education.
Three letters of recommendation.
A copy of your transcripts from the institutions where you pursued a Bachelor's degree and, if relevant, a Master's degree.
International students whose native language is not English must submit TOEFL or IELTS scores OR Duolingo (NOTE: Duolingo will be accepted for Spring 2022 and Fall 2022 applicants. (Note: a score of 80 or higher on the TOEFL iBT (this corresponds to 550 on the old TOEFL test) or 3 overall on the IELTS. The University Graduate School has a list of countries that are exempt from this requirement.)
OPTIONAL:

A copy of your resume or CV.
We also recommend reaching out to at least one SUCCEED faculty member prior to applying to learn more about the program.
Note: Incoming students are expected to have (or be currently completing) a Bachelor's (or Master's) in Engineering, Computing, or a closely related field.
For more information about the application requirements, please contact the Graduate Program Director, Dr. Stephen Secules (eced-gpd@fiu.edu), or the Senior Program Coordinator, Ileana Lindsay (ilindsay@fiu.edu). 
We offer Graduate Program Director office hours from 12:00 pm - 1:00 pm EST via Zoom. For those interested in attending, please e-mail eced-gpd@fiu.edu for further information. 
Graduation Requirements for the program:
The Engineering and Computing Education (ECED) doctoral program aims to prepare students:  
To conduct and direct research in engineering or computing education, 

 

To design and assess inclusive, innovative, and effective educational experiences in engineering, computing, and/or engineering and computing education, 

 

To address critical issues in equity, diversity, and inclusion within engineering and computing education, and 

 

For a diverse set of professional trajectories both inside and outside the classroom. 

 
These learning outcomes are achieved and assessed through coursework, teaching and service experiences, a comprehensive exam, and independent research in the form of a doctoral dissertation. Please see the graduate handbook for additional details on the degree requirements in detail and various resources for students.  
COURSEWORK: 
Overall, an ECED Ph.D. requires a minimum of 75 credit hours beyond the bachelor degree, which include  
Engineering and Computing Education Core Courses 

(9 courses, 20 Credits) 

 

4 Foundational Courses (11 credits) 

 

Seminar on STEM Education Research (0 credits) 

3 Research Methods and Statistics Electives Courses (9 credits) 

 
Teaching Requirement/Pedagogy Courses 

(2 courses, 4 credits) 

 

Engineering and Computing Education Specialization Courses 

(3 Courses, 9 credits)

Discipline-Specific Specialization 

(5 courses, 15 credits) 

Dissertation Research Credits 

(15 credits) 

 

Additional credits in the form of graduate research or other coursework 

(12 credits) 

 
 See below for additional information about the coursework. 
 PROGRAM MILESTONES:  
The completion of the ECED curriculum is one component of the doctoral program. To achieve all of the outcomes of the program, doctoral students will also be required to:  
Select a 

Major Advisor 

and assemble a 

Dissertation Committee. 

 

Successfully complete the 

Comprehensive Exam

. Upon completion of the required coursework and the Comprehensive Exam, the student advances to Candidacy. 

 

Successfully present and submit a 

Dissertation Proposal. 

 

Successfully submit and present a 

Dissertation 

based upon original research in Engineering and/or Computing Education. 

 
Lastly, to support each student's professional development, all students in the program will annually have to complete (1) a Service and Professional Development requirement and (2) an Evaluation and Mentoring Plan Review. 
Each of these milestones is outlined in detail within the ECED Graduate Student Handbook.